Bringing together more than 60,000 people from around the world, the fifth World Innovation Summit for Health (WISH) – held for the first time virtually – came to a close today.
Featuring more 300 global speakers and 100 sessions, attendees heard from international health ministers, scientists, academics, public health leaders, and policymakers. Also, more than 15 policy-focused research reports were released over the course of the five-day summit.
At the closing ceremony, Sultana Afdhal, CEO of WISH, encouraged participants and conference partners to move forward with innovation in healthcare: "I look forward to continuing our collaboration in the months and years ahead as this community – the WISH community – continues to address and take on healthcare issues that result in real and long-lasting change."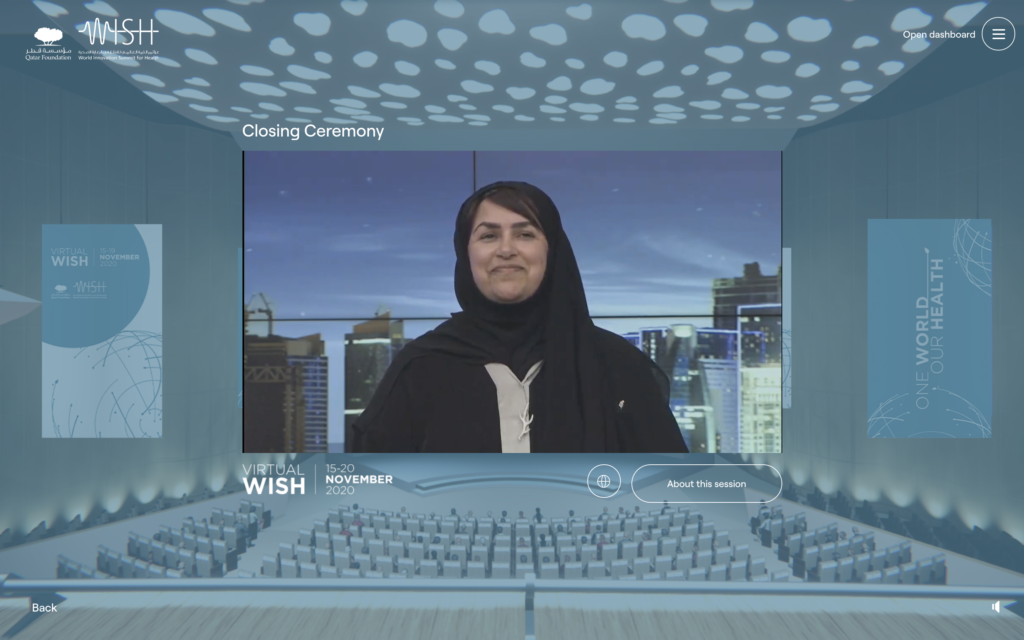 Her message echoed the opening message of Dr. Tedros Adhanom Ghebreyesus, Director-General of the World Health Organization, who said that the world had a responsibility to ensure that all countries around the world enjoy the benefits of innovation. He said: "The pandemic is a once-in-a-century crisis, but it is also an opportunity to harness the power of innovation for the healthier, safer, and more sustainable world we all want."
In her closing remarks, Sultana Afdhal added: "This summit has powerfully demonstrated that there are many other pressing issues, including climate change, that continue to urgently require our focus and expertise and that collaboration is the key to solving many global healthcare issues. Although WISH 2020 is now concluding, our work to highlight and engage health does not."
WISH announced two grand prize winners from the 30 winning innovators to be selected as part of their Innovation competition. The winner in the Spark Award category, which targeted start-ups, was SOSO Care from Nigeria, a micro mobile health insurance startup that enables people to pay for health insurance with recyclable waste, while the Ellen Medical Affordable Dialysis System from Australia, won the Booster Award for scale-ups.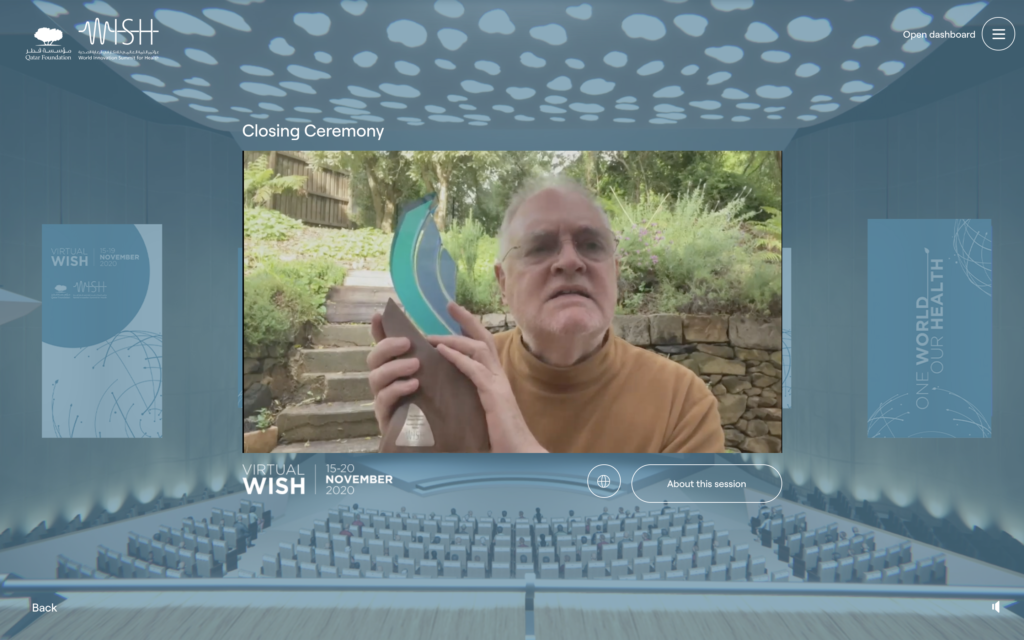 Under the summit banner of 'One World, Our Health', WISH maintained a focus on the most urgent global healthcare challenges amid the focus on responses to the global coronavirus pandemic. WISH 2020 called for addressing disparities in healthcare that have deepened during the pandemic; to accelerate new modes of care through digital health solutions; and to focus more on children's health, especially in conflict or trauma situations. Climate change was addressed as a growing emergency while the role of education in healthcare was brought to the forefront. Other messages were the need to remain vigilant in the battle against existing healthcare challenges and epidemics, and to guard against the growing pattern of misinformation surrounding care.
WISH 2020 covered 10 core research areas, including digital technologies and mental health, the role of schools in child health, health challenges of major sporting events, climate change, and each chaired by recognized experts in the field.
Delivering the first keynote of the summit, Dr. Tom Catena, Chair of the Aurora Humanitarian Initiative, argued that resources could and should be distributed in a fairer manner to war-torn regions and disadvantaged communities. Academy Award-winning actor and philanthropist, Morgan Freeman, keynote speaker on the second day, stressed the importance of working together to combat climate change and putting trust in science and education to create a healthier world for future generations.
WISH 2020 keynote speeches were also delivered by Eva Longoria, American actress and philanthropist; His Excellency Hassan Al Thawadi, Secretary-General of Qatar's Supreme Committee for Delivery & Legacy; and The Honorable Pravind Jugnauth, Prime Minister of Mauritius. Other key speakers included Dr. Anthony Fauci, Director of the National Institute of Allergy and Infectious Diseases and member of the White House coronavirus task force; and Peter Sands, Executive Director of The Global Fund to Fight AIDS, Tuberculosis and Malaria.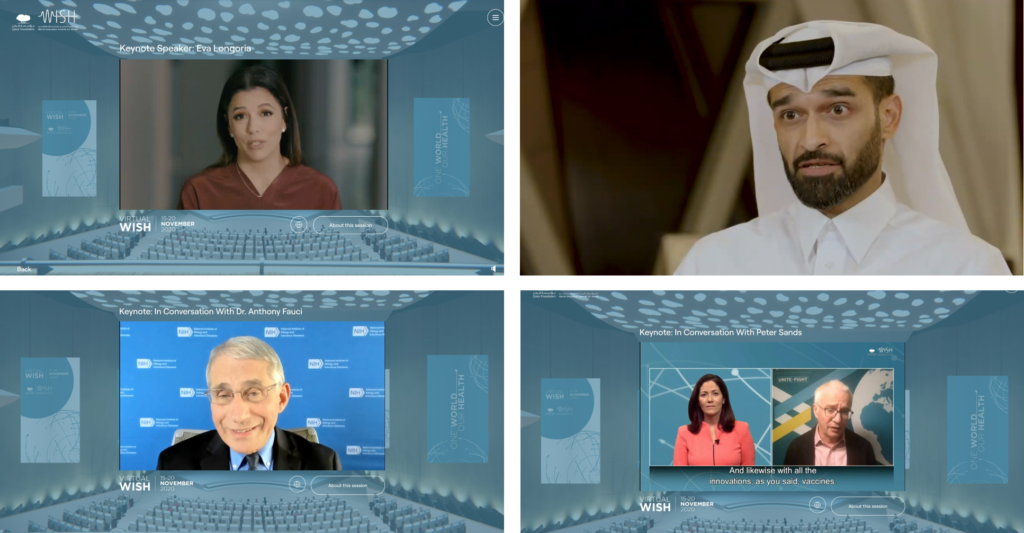 The most expansive of its biennial summits to date, participants were able to participate in masterclasses with speakers including Alastair Campbell and Giles Duley, who spoke as part of Qatar Foundation's (QF) Education City Speaker Series, informal debates, and panel discussions jointly held with local and international partners. The summit also acted as the platform for launch of the French translation of the world's first pediatric blast injury field manual, a project undertaken by WISH for Save The Children, with translation provided by the Translation and Interpreting Institute of Hamad Bin Khalifa University. Networking sessions and other activities were held in the Innovation Hub, which had an exhibition space for WISH innovators and summit partners. Participants also had full access to a library, a cinema, and a photo gallery, allowing them to experience an immersive virtual summit experience.
Coming up on Friday, in partnership with UNICEF, WISH, QF's global health initiative, will be hosting a special symposium Reimaging Childhood to mark World Children's Day on November 20. To attend this event, register at wish.org.qa